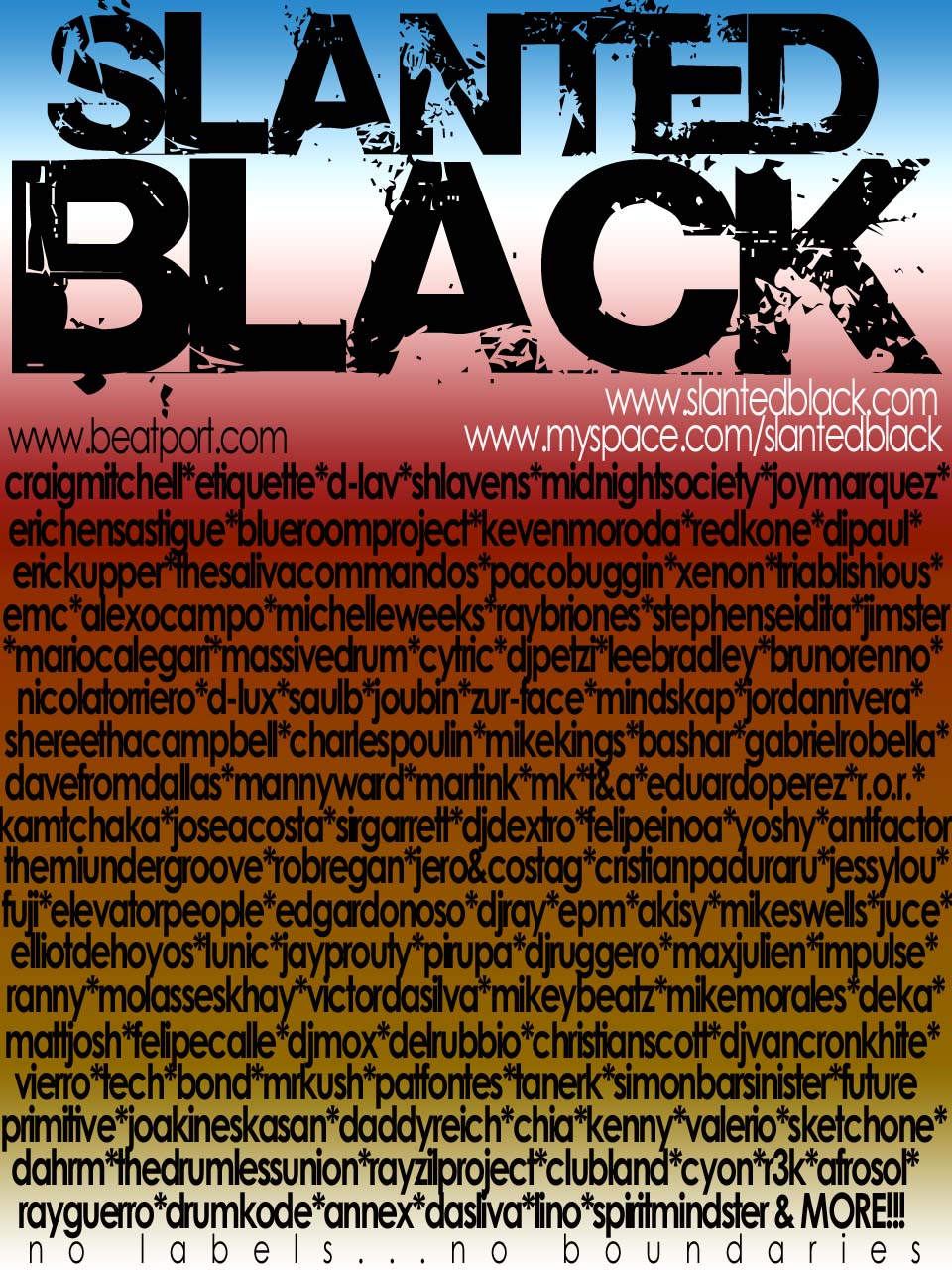 SLANTED BLACK
The Darker Side of Tribal House


Founded by Mike & David Laven,

SLANTED BLACK
is the new sub-label of one of the most forward thinking labels in dance music, SLANTED HOUSE RECORDS. Headed by Craig Mitchell aka. Oliver Twisted, SLANTED BLACK's talented artist roster is due to the hard work of both Craig and Josh Parra aka. Etiquette, who heads the A&R department of the label.
With their main focus being the darker side of tribal house, the SLANTED BLACK family is driven to move crowds all over the world with their dark and dirty sounds. With a combination of up and coming talent as well some very well respected DJ's and Producers of the dance music community, SLANTED BLACK is surely building up a reputation as a force to be wreckoned with.
After celebrating their second release on BEATPORT by hosting a release party at CROBAR NYC, SLANTED BLACK hosted their first label party at home in Boston at 360 UltraLounge. Both parties were a great success and the SLANTED BLACK family is working harder than ever to organize more events like this as well as booking their artists for performances representing the label all over the U.S.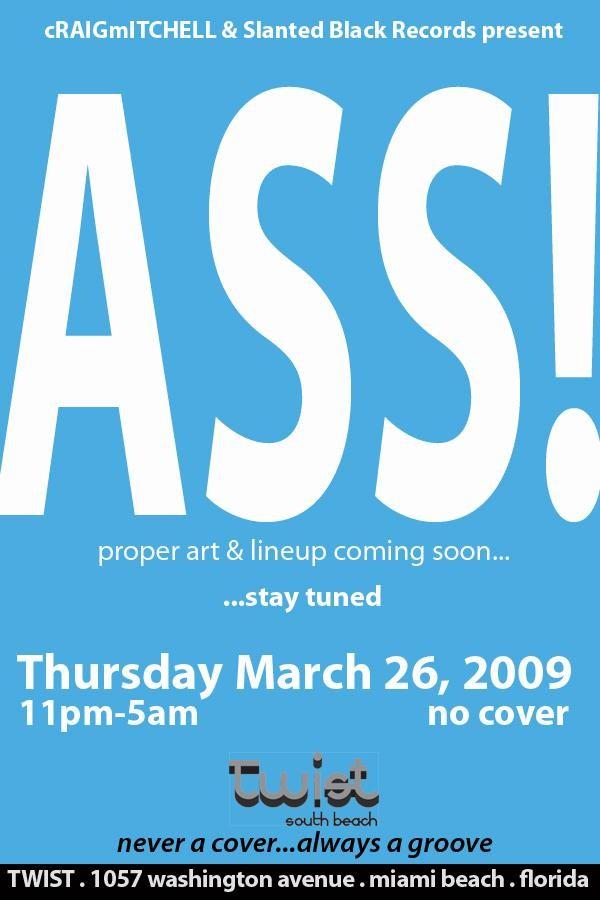 cRAIGmITCHELL,

a founding member of the chart-topping production team The Orange Factory, fathered and cultivated the dance music scene in Burlington, Vermont, where he went to Saint Michaels College after moving from Saginaw Michigan...near the birthplace of techno, Detroit, Michigan. With over 18 years behind the decks, cRAIG has served as a resident at New York City's legendary Tunnel and has played the country's most celebrated venues and club nights. He has rocked crowds alongside such tastemakers as Chris Fortier, Peter Rauhofer, Honey Dijon and Tom Stephan (Superchumbo), amongst others. One experience with cRAIG behind the tables and belting out one of his tracks LIVE, while dancing continuously in the booth and you'll understand why his shows are so well attended and received. Unlike many of today's DJ's who are so focused on the Mix, which IS important, but they forget about the VIBE. cRAIG is not just a DJ, he is a performer.

Since his debut DANCE production effort in 1997 (C12 "JUDY"), cRAIG has collaborated with a range of artists including Trendroid, Michelle Weeks and John Creamer & Stephane K, his work with whom earned him global acclaim as oLIVERtWISTED on "I Love You." His appearance on Kats & Styles' "You're My...Everything" on Twisted Records, former home to the likes of Ralph Falcon, Oscar G, Deep Dish and Danny Tenaglia, was one of the highlights of Satoshi Tomiie's Nu Breed compilation on the acclaimed Global Underground imprint. After his contribution to Yoko Ono's highly publicized 2001 single, Open Your Box, cRAIG got to flex his muscles as a music LOVER and PROMOTER when he was invited to assist with A & R, management and operation of Mind Train Records. Mind Train quickly had a Billboard #1 single with "Walking on Thin Ice" (Mind Train/Twisted). Looking to, also, bank on his promotional talents, cRAIG has recently been named Label Manager for John Creamer's imprint, NY LOVE, and is in the process of bringing back Magnetik Music, which will be FINALLY be releasing Stefano Greppi's "Freedom Is" digitally, plus lots more.

Currently, Boston based, cRAIG is refocused on his music/DJ career after three LONG years off. With a residency at Boston's only after-hours, RISE, regular gigs in NYC, Miami, Vermont and Canada, plus new music with Manny Ward, Alan T, Stereo Soliders, John Creamer, Midnight Society, Deka, Dennis Ciallela and more on labels such as Kult, Lajja, En-Soul, Slanted House, Soundgroove, Moomba and Amplitude, along with running his imprint, SLANTED BLACK...the future is looking to be very (oLIVER) tWISTED!

WEDNESDAYS 10pm-1am est (USA) THE SHOW www.techno.fm




Artist Roster

Craig Mitchell
Etiquette
Cytric
Martin K
Jimster
Mario Calegari
Ray Briones
Kamtchaka
Dave From Dallas
Lunic
Jero & Costa G
Shlavens
D-Lav
Mike Kings & Yoshy
Annex
Future Primitive
Dj Petzi
Jordan Rivera
Midnight Society
Felipe Inoa
Christian Scott
Jessylou
Eric Kupper
Matt Josh
Zur-Face
Dextro
Drumkode
Sketch One
Valerio
Cristian Paduraru
Joy Marquez
Keven Maroda
Redkone
Paco Buggin
Xenon
Michelle Weeks
Tribalishious
Stephen Seidita
Bruno Renno
Nicola Torriero
D-Lux
Joubin
Mindskap
Bashar
Molasses Khay
T&A
Sir Garrett
Lorant
Drumless Union
Kenny
Mark Rizzo
Hugo Rizzo
Victor Da Silva
Cyon
Clubland
Vierro
Eduardo
Shereetha Campbell
Mr. Kush
Rayzil Project